1000 KW GENERATOR NATURAL GAS POWERED FOR SALE – CJV# 1775
1000 kW generator.
Two distinct options.
1000 kW Generator Natural Gas Package at a Glance
Ready for prime or stand-by power, this Waukesha L7042GL powered package makes 1 MW / 1000 kW of power with only 34,000 hours on overhauled components. The engine has been preserved, features a 62 kW black start generator and an air compressor system for a complete facility. It's currently disconnected in a yard beside highway #22, which is high load corridor for easier logistics. Additionally, this 1000 kW generator package is a perfect candidate for a conversion to multi-stage pump, see below!
1000 KW GENERATOR LISTING QUICK LINKS

You know people we don't – that information is valuable!
The owner of this 1000 kW generator has included a large cash sales incentive for bringing a buyer. Even if you aren't a broker/reseller, if you have information which leads to a sale, you will be compensated. Contact us to learn more about this exciting opportunity.
Components of the 1000 kW Generator Propak Package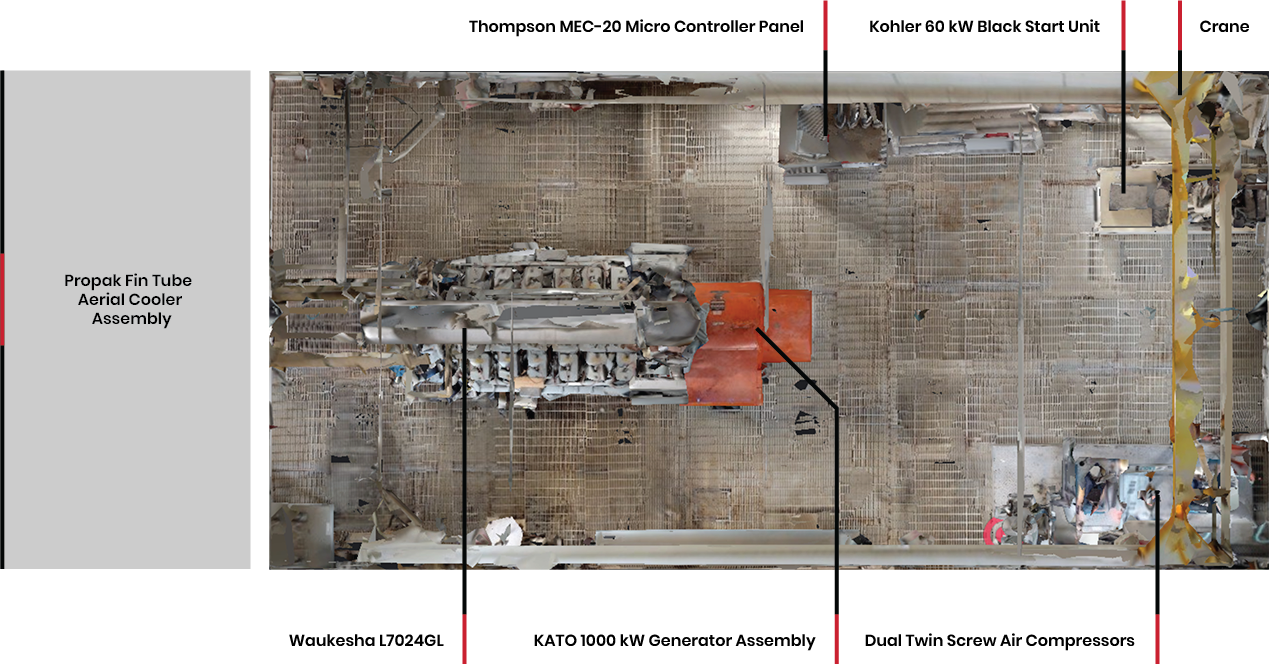 Waukesha L7024GL

VHP, 12 cylinder
Rated 1472 HP – 1097 kW @ 1200 RPM
Rated Continuous Service
Fuel – Natural Gas
Propak Fin Tube Aerial Cooler Assembly
Jacket water section
After-cooler section
Belt Driven Fan from Engine
KATO 1000 kW Generator Assembly
6P6-1900 1000Kw/1250 KVA
277/480/3/60 VAC
1504 Amps
Rated Continuous Service
Thompson MEC-20 Micro Controller Panel
Synchronous Generator/Engine Controller
Woodward Governor Control
Main Breaker
Engine Monitoring Annunciator
Kohler 60 kW Black Start Unit
Engine – John Deere 4045TF150C
Fuel – Diesel
Generator – Kohler 60REQZI
62 kW
277/480/3/60 Vac
71 Amps
Eagle Instrument Air Compressor
Qty. 2 screw compressors
Qty. 2 TECO 20 HP, 480/3/60 VAC motors
100 Gallon Storage tank
Automated air dryer assembly
Building & Skid
Length 40'
Width 20'
Height 22'
Weight 100,000 lbs.
Qty. 4 Lifting lugs on each side of the skid/building assembly.
Additional Cooler Dimensions
Width 20'
Length 10'
Height 12'

A 1400 hp Pump Package for $600k?
"But this is a 1000 kW generator?!?" you may be asking… This building, due to its size and setup, is a PERFECT candidate for converting to an engine driven water injection pump package. We recently completed a 7042 conversion to pump for a client who was paying unbelievable power costs. Click here to learn about that project.
In short, order a pump, overhaul the engine, order a gearbox, build your piping out complete with charge pump, filters, bypass, metering etc. and then complete it with an Allen Bradley PLC/HMI (program included). In addition, we'll spend a couple days on site doing the start-up and commissioning of it.
You will be HALF the price of buying new, and be pumping in 10 weeks… FROM TODAY!
1000 kW Generator Photo Gallery
1000 kW Generator Price & Quick Facts
As Is Price: $215,000
| | |
| --- | --- |
| Condition | Field Ready and/or Minor Repair |
| Manufactured | PROPAK 2001 |
| Location | Rocky Mountain House, AB |
| Status | Disconnected |
| Availability | Immediate |
| kW Rating | 1000 kW Generator |
| Driver | Waukesha L7042GL 1472HP |
| Generator | Kato Engineering 1000kW Generator, 1250kVA, 60Hz, 3PH, 1200RPM, Continuous Duty, 277/480 Volts, 1504 Amps |
| Controllers | Thompson Technology Engine Controller m/n:MEC20; 4-20mA engine mounted Woodward governor |
| Cooler | PROPAK |
| Dimensions | 40' L x 20' W x 15'6" eave H |
1 MW / 1000 kW Generator Feature Sheet
Download this 1000 kW generator's details as a PDF – with the option of an unbranded version to share with your network.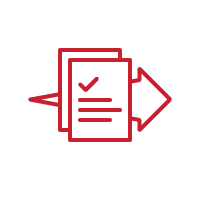 Highlights for 1 MW / 1000 Generator Redeployment
Whether you're going to redeploy this 1000 kW generator in its original configuration, with minor adjustments or alternatively convert it to a multi-stage pump package with our help – we have the knowledge and expertise to get this package producing for your needs.
Inquiries
Call us at 403-819-3906 or fill out the form below to discuss this 1000 kW generator.